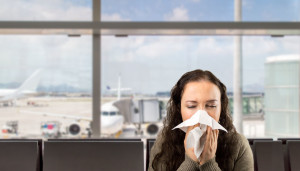 Travel can induce loads of stress upon our bodies that can often lead to a lowered immune system. Here are some common ailments of travelers and how to avoid them:

Airplane Colds
Many frequent travelers report they always seem to get a cold after traveling by airplane. Acute respiratory infections are common after air travel due to crowded quarters, and the fact that exhaled droplets are easily spread. To make matters worse, low air pressure and oxygen compromise immune function.

To avoid upper respiratory infections-
Stay Hydrated – Staying hydrated can keep your immune system active and well oiled.
Keep Hands Clean – Airborne germs aren't the only thing responsible for airplane colds. Touching infected surfaces are also a common cause. To avoid the spread of germs, it is highly important to keep your hands clean and avoid touching your eyes, nose and mouth.
Take a multivitamin prior to traveling – Taking a multivitamin may give your immune system the protective boost it needs to ward off potential illness.
Consider wearing a face mask – Face masks may help protect your nose and mouth from migrating air droplets.
Traveler's Tummy
According to the Independent Traveler, a new diet, dehydration from flying, a change in climate, stress and even lack of sleep can cause simple traveler's tummy, with the most common (and severe) cause being bacteria such as E. Coli. Symptoms can include stomach cramps, nausea and vomiting, diarrhea and stomach cramps, malaise and fever. Traveler's tummy can be dangerous as symptoms can lead to severe dehydration.

You are at a higher risk of traveler's tummy if-
You are traveling to a high-risk developing country such as those in Latin America, the Middle East, Africa and Asia. For the CDC's destination specific information, visit http://wwwnc.cdc.gov/travel/destinations/list

To avoid travelers tummy-
Avoid drinking the water – The source of traveler's tummy is usually water-borne. This means skipping ice cubes in your drink, and opting for bottled water in lieu of tap water.
Avoid raw dishes – Avoid raw foods in dishes such as salads or common side dishes.
Deep Vein Thrombosis (DVT)
The most serious and potentially dangerous ailment on this list, deep vein thrombosis is caused by extended periods of motionless sitting. People can especially be at risk during long rides in cars, trains and buses. Some travelers are at a higher risk than others either due to genes or medication. Symptoms are marked by a swollen, painful leg, usually in the calf area.

You are at a higher risk of DVT if-
You are taking hormonal contraceptives or have had hormone replacement therapy.
You are currently or were previously treated for cancer.
You experienced recent immobility.
To help avoid DVT-
It's important to keep your legs moving to maintain blood flow.
Compression stockings help move blood to the heart.
Stay dehydrated (curtail coffee and alcohol consumption before and during a flight). Dehydration causes blood vessels to narrow and blood to thicken.
When driving, stop every couple of hours to stretch the legs.
For exercises that you can do from an airplane or car seat, click here.

Allergies
Check environmental conditions of your destination such as altitude, and air pollution that can affect your health or inflame your allergies.


Visit your primary care physician for advice tailored to your unique medical history or needs. If you are in the Orlando area and in need of urgent medical attention, please dial 407-648-5252 ext. 1 to immediately be connected with a nurse.